I built my first home in 1996, I know, that was some time ago! The decor was a pretty shade, or not so pretty shade of apricot and greys. I LOVED that home.
Being young and my first home, the budget was limited. Choices were also limited, which is probably helpful when you're 19 and have no real clue about anything, much less the perfect way to style your home. Think slate look grey and black lino, apricot tiles and curtains. Maybe I'm being more harsh on myself than necessary, it was the 'in thing'.
Fast Forward to 2014 and I find myself building again. This time after living in multiple rental homes, then finally buying a small red brick home in the Western Suburbs of Adelaide. I meet my current and PERFECT husband (well perfectly suited to me!). He declares the home is too small for me, the kids and a million fish tanks! (that's another blog waiting to happen),we start looking at builders. WOW! It's tricky and time consuming. We choose a builder with a fabulous reputation for quality homes, I begin by showing them roughly what it is I want and begin the process.
I LOVED building and if I win the X lotto, I'd do it a few more times. Chat chat chat..this is about decorating not building..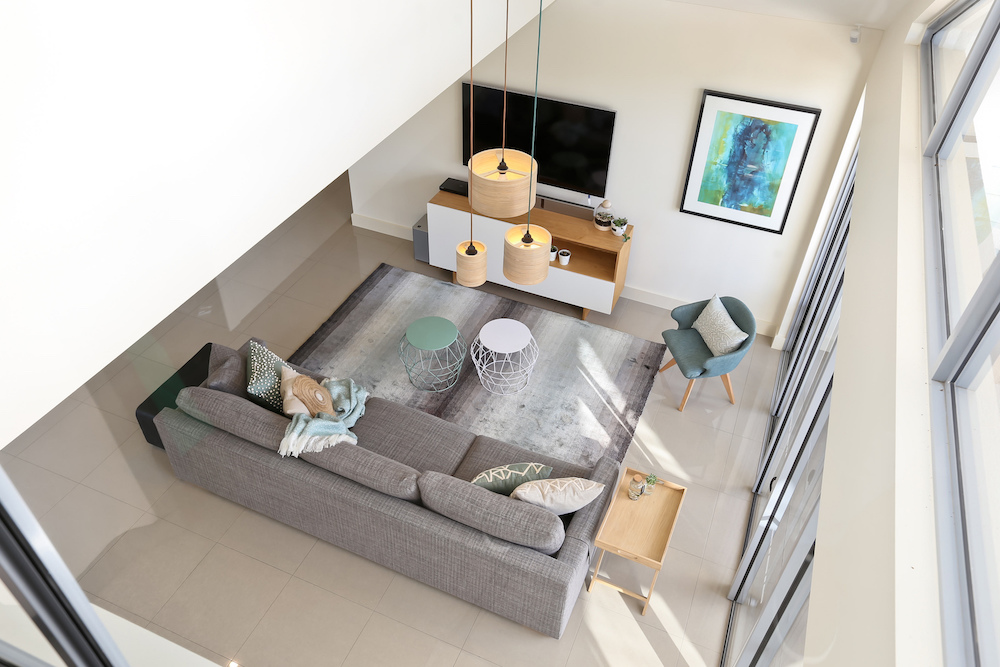 Here are my tips to creating a beautiful sanctuary that reflects who you are :
1 – Magazines. We're all online mad these days, but I got a lot of inspiration from magazines. Buy and cut out the bits that you absolutely adore. Make a style inspo scrap book.
2 – Pinterest. Create an account (of you don't already have one!) and pin away. Do room by room, plus overall style. Do you love Scandi, Beachy, Country, Modern, Bohemian, Industrial, Shabby Chic or blends of a few styles?
3 – Colour palette. It's really easy to style a home if you choose 3 or 4 colours in various shades. The more colours the trickier it gets, unless you love crazy eccectic non style. We did our home in greys, duckegg, blonde woods and the odd pop of colour with art.
4 – Think about time frame. Will this be your 'forever home'? Is it short term home that will be an investment property? A forever home you can afford to spend a little more cash and time getting things, just right. A for now home that will be rented or sold is best staying neutral and a little less luxurious.
5 – Fresh flowers!! I adore flowers and they add such beauty to every home. It doesn't need to be expensive, grow your own, 'borrow' some hanging over a fence on a walk, check out Woolworths.
6 – Wallpaper. I know I hear some of you groaning. There is such a beautiful selection these days and a feature wall can change the whole look and feel of your home. Every single person who comes to my home for the first time is mindblown by my hallway wallpaper. If you can't find what you like, it's worth engaging an interior stylist who will have access to suppliers that we don't.
7 – Statement rugs. Soft rugs, pretty rugs, rugs of all shapes and sizes. I love rugs, but be very mindful of the kind of traffic. Be even more mindful of care instructions. I learnt the hard way and a sofa cleaning guy ruined my 3K rug!! There's a blog story to share one day. Rugs create warmth and 'rooms' when in an open plan. They give your home personality.
8 – Re-purpose. We're all trying to save some $$$'s but a lot of us are also trying to save the environment. Can something you already have be painted and/or recovered? I have repainted old furniture to 'match it' up for the kids rooms in the past, they loved it and it can be re painted if someone gets crazy with textas!
9 – Cushions. How many cushions on the bed or couch is too many? haha. Ask me and I say "go nuts", ask my Hubby and he thinks one is too many. Cushions add colour and interest and a homely feel.
10 – Practicality. No point in having a gorgeous chair that can't be used. Think about what your family need for comfort and practicality.
11 – SPACE…This is in capitals because space is important to me. Whether you have a small unit or a mansion creating a feeling of spaciousness makes you feel calm and relaxed. Piles of boxes and crap isn't conjusive to peace. Your home is your castle and your sanctuary, make it feel that way. A small home with white furniture and linen with some gorgeous bright art work can make us feel at peace, where a huge dark home filled with junk will do the opposite.
12 – FRESH AROMA. I love essential oils, I love natural soy candles, I love windows open and fresh air in the Spring. Dank smells, pet smells, chemical smells are all the opposite of what you want to create a sanctuary and peaceful, welcoming home.
13 – A fresh coat of paint can change everything. Don't be afraid of colour, try some sample pots. Think about how the colours make you feel. Red is used in restaurants to increase appetites and make people eat fast. Bright colours can energise small children, so maybe not paint their rooms in psychadelic colours! Your home should say this is me, it should make you feel glad to be there.
Much Love,
Just Wingin' it,
Jazz
Listening to – The kids asking for dinner
Wearing – Joy
Diffusing – RC (we have a few sniffles)