I read a meme on Facebook that said "someday someone will come along and hold you so tight all that all the broken pieces will stick together". Nice sentiment but unfortunately this is far from how recovering from trauma works. Well at least not for me.
When I met my husband I was in the thick of things, 2 years after my kids accident and relying heavily on alcohol and sex to distract me from the pain and the real issues. He had recently come out of a bad relationship and wasn't even considering a partner, especially not a mentally unstable one. I was a smitten kitten a few weeks into our friendship, but I was raw and salty. Not always the easiest person to be around. I'd lash out at others for small things. It was always their fault and never mine, that's how it works when you're in emotional torment. Also coming from a previous dysfunctional relationship I was dragging along all the protective measures I had needed and put in place. I had major trust issues. Let's just put it simply, I was terrified of more hurt but desperate for love and understanding.
My husband was kind and understanding, but a little stubborn. Nothing has changed by the way (this will be a test to see if he reads my blog, hehe). Fast Forward 12 months and we decided after having a close (and sometimes crazy) friendship that we did actually want to give a relationship a chance. The rest is history as they say. Six years later and we have a wonderful relationship. The thing is he didn't make me well, or together. No one can make you happy, it's an inside job. Your partner can absolutely add to your life in so many ways, they can even be instrumental in growth and recovery from trauma, but they can't "fix" you. I see single people saying "I'll be happy when I meet someone", "It's alright for you, you have a man who loves you". My experience has taught me that you don't want a "better half", "the other half" you want a whole person. You need to be a whole person and they need to be a whole person. Spending your time filling in their missing parts is hard work, I've tried it. You can quickly lose yourself trying to make someone happy. It works best when you both contribute to a relationship in equal measure.
Pull yourself together, Get you shit together, Get your act together. What people say when they to people who they feel have had enough time to grieve, or move on from whatever traumatic life experience they've had. At some point you might need a wake up call, or a person very close to you give you a gentle nudge in the right direction. Not showering or eating is a good example when a kind push is needed. What does "together" even mean?
For me to think about having my shit together, I need to think about how it feels/felt not to.

There have been many times in my life since the kids accident that I have been completely broken and not together. I haven't put them all into words before, for fear of triggering PTSD, but I feel that I am in a place now that sharing isn't only easier but important. Every time we tell our story with an open heart it opens up space for healing. It opens up dialogue for others to know that it's OK not to be OK. That you can be completely broken and slowly put back together again. There is hope if you're reading this and feeling helpless.
Walking down the road to sirens blaring, media and emergency services parked out the front of my house, wondering what the hell was going on. I had picked up my youngest child at the time from childcare and was pushing him in his pram. As I got closer and closer I started walking faster. I never in a million years imagined the scene ahead of me was anything to do with my older two children.
A fence had fallen. My fence, the fence in the home we were renting at the time. My 6 year old daughter was being put into an ambulance and my 10 year old son was lying in a pool of blood half the size of his body. They both had serious traumatic brain injury.
I won't tell the whole story here, not now, but I want to talk about what trauma feels like and not being together.
I stood there and in my mind thought "who is that screaming?" and realised it was me. It was like I was experiencing the whole thing from a distance, but also experiencing it completely. I was in parts. I was smashed into pieces. I saw that my youngest son was upset, picked him up and became almost robotic at that moment. The brain does amazing things to protect itself. This is how PTSD comes about, when we experience something so very intense and horrific it disengages parts of us, so we can cope at that moment.
When my son was declared dead at the Women's and Children's Hospital, I screamed "I am sorry" over and over, again it wasn't til some time before my brain recognised it was in fact me who was screaming. I blamed myself, I have come along way to forgiving myself. There are still times I have the guilt of a parent left behind. It's actually got a name "survivor guilt". A long time ago, I decided to not spend my energy thinking, "why me, why my children".It leads to nowhere but more heartache. I have vivid memories of both my oldest two kids on beds next to each other with teams of doctors, working on them. Like something from a movie, but this wasn't a movie, it was my life, my babies.
There are many more parts to my story that explain my brokenness. A brokenness that I feel is mostly healed.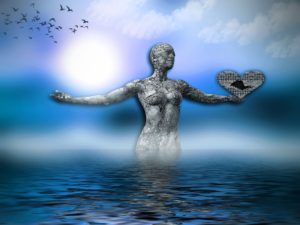 When 'getting our shit together', we find there are pieces scattered, buried deep, the part of us that allows us to feel so strongly and love so deeply also needs to be protected. When trying to help an injured animal you can get bitten. Especially when that animal is frightened. Humans are the same, healing means you need a scab to grow, bump that scab and you have a raw wound. Superficial scabs on burn wounds need to be scrubbed off so deep healing can occur. Recovering from trauma, you need the thin scabs scrubbed over and over til it all comes back together. Talking with professional health care people is a good example of when this happens best.
Time. Time heals all wounds is a saying that we all know. Yes and No. Time heals all wounds if you actively choose wellness, choose to work on gathering all the parts of yourself that were scattered. Time is needed to effectively gather the parts of us that need healing. It might happen in a year, few years, absolutely depends on our experiences, but as we become closer to who we are meant to be you will know.
Time is needed to effectively gather the parts of us that need healing.
Sometimes it's not until we stop to think about all the things that have changed can we appreciate how far we have come. How much more together we are. Talking about the severe anxiety I used to suffer with, over the last couple of weeks, has given me a fresh sense of thankfulness. Rejoice in the small things, they really are the big things. Start small, give thanks for an hour without anxiety, a day, a week.Tell yourself you are doing great. Then one day you might have to think hard about when the last time you were unwell.
I know I love telling you all how much Yoga and meditation has changed my life, but each time I have done a session, a little piece of me clicks back into place. Tiny broken fragments constantly coming back into where they are meant to be. I am truly greatful.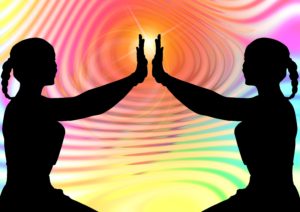 So, the next time someone tells you to get your shit together, have a laugh at how flippant a comment that is, especially given that it takes time, energy, perseverance, help, mindfulness and a whole heap of other things for most of us to do that. Particularly with trauma and PTSD, but take heart in knowing that if I can do this, you absolutely can too.
Much Love,
Just Wingin it – Jazz
Diffusing : Release
Wearing : Sacred Mountain
Listening to : Peppa Pig (ughh my 2 year old is obsessed).