When someone says they know me well, they probably know a version of me from a time when they spent a significant amount of time with me. If you knew me 5,10, 15 even a year ago, you probably don't know me that well at all. You see, I have changed.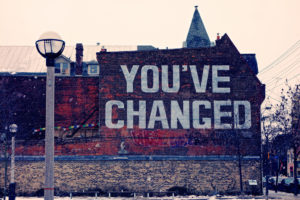 Change is inevitable, progress is optional. Everything changes, whether we like it or not. In fact I often tell people going through a rough patch "everything changes, whether you are having the worst day or the best day of your life, it will change". That is comforting. Progress is optional.
I sometimes talk about the fact that I had PTSD, not so often do I mention anxiety and depression. I had those buggers too. Anxiety so bad that I would wake in the middle of the night and shower and tell myself to breathe slowly. I was terrified and thought i might be dying. Nothing compares to that kind of panic, depression and feeling nothing can be exhausting but anxiety and panic was the absolute worst. Panic so bad that I would be in the middle of a shopping centre, the sounds became so loud and the lights so bright, I had to leave immediately. Then when I did leave I forgot the way, became disorientated, cried all the way home. Absolute terror.
Thank the Gods those days are over.
Anyway, this isn't a recount of those days, this is to share with you the next stage of my journey. I can say with much Joy that I am well, very well, so bloody well and that is exciting.
How do I know?
When I was in the thick of PTSD, anxiety and depression I could see no future. To just make it through the next hour, to be able to think of what I had to do the next day, those things were hard. Really hard. I had to use every single ounce of my strength to be a parent, to feed my children, dress them, engage with them, love them. There was nothing left. I was in survival mode.
Time has past and I am no longer just surviving, I am progressing! I am challenging myself in ways I never thought possible. I have health and fitness goals, business goals, relationship goals, family goals and TRAVEL GOALS!!
I have mentioned briefly in other blogs that I joined a women's walking/hiking group. I am currently preparing myself for a 11 day hike in New Zealand!! This is amazing and exciting for me. My biggest challenge this year. (Link at bottom if it sounds like something you'd enjoy)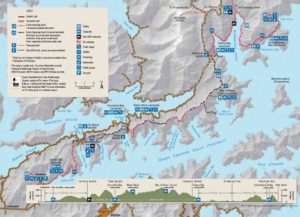 To be in the best physical shape I can be, so the hike is enjoyable, rather than a chore, I have joined a new gym. There was nothing wrong with my old gym, It was awesome and the people were so lovely. Sometimes to progress and get the best from ourselves we have to change something dramatically. For me, that was getting away from everything that was comfortable. My old gym had gotten too comfortable, I needed a fresh start and a fresh set of eyes on this chubby body..haha. I honestly thought I'd be there forever and I probably will go back at some stage.
My new training programs consists of 6 days full body exercise plus yoga and soon weekend hikes to prepare will be added. It's exciting and tiring. A good tired, where I know there is a reward at the end..no it's not cake LOL.
Along with all the exercise is a very different way of eating. There is no sugar, no alcohol, no bread, no dairy, no pasta, no fruit, no pre packaged meals. It's hardcore and that is great. When my trainer asked what I want to achieve I said "I need a body that has the capacity to do all the things I want it to do, with ease". That means weight loss. Being fat isn't serving me or my lifestyle well any more. I need to be able to easily bend and move, i need to be light on my knees and ankles. Before anyone gets their cranky pants on, this is about me, my journey, my body. My body, my rules. You do whatever you need to do to have the body that doesn't inhibit you from doing all the things you love. OR, You can do nothing at all. I will still like and love you. This is about me.
While we are talking about my choices, to those who have said "How can I leave my children ?", Or even more offensive "who will watch them?" , "How will you cope?', "isn't that expensive?" , " Why walk, doesn't sound like a holiday"… These 10 points answer those questions and more. 
1 – My children are extremely well loved. They won't forget that while I am away.
2 – I am a Mum, but I am lots of other things too. I am a woman, I am a lover, wife, sister, daughter, friend, blogger, weirdo, adventurer. I am allowed to be those things without taking away from my Mothering. In fact, the best Mums are often those who can take time away for themselves. You cannot pour from an empty cup. This hike will re fill that cup to overflowing.
3- My husband is pretty damn awesome. He took on my 2 kids as his own, they adore him. He is an active participant in our relationship and our family life. He is an equal parent with the kids, he loves and cares for them just as much as me. He doesn't 'babysit' the kids, he looks after and parents them as I do. He's not some kind of saint, he is just doing his part as a husband in a family unit. He isn't a matyr. He encourages me in my endeavours and supports me in the best way he can. Currently he is supporting me with my whacky diet and training regime. When I am happy it makes him happy and vice versa.
4 – If my husband was the person going on a holiday or hike, you wouldn't ask him the above questions, would you?  Please don't have a double standard. We are equals. Gender has nothing to do with it. When he decides to go to Switzerland to the Geiger Museum or Singapore to buy collectable Transformer toys (he's a big kid/geek), I will support him in those choices and take over parenting on my own whilst he is away. That's how we roll. I can hear some of you saying "my husband wouldn't let me", that sucks and I am sorry. We don't "let each other" do anything we communicate our desires and dreams and make them happen.
5 – How will I cope? Very well thanks. I am so well. I am so proud to say that. This year is 9 years since my sons death, 9 years since my daughter sustained her injuries, 9 years since leaving a terrible relationship. Those years have been hell and I have worked bloody hard to get to a place of wellness. Thanks to Yoga, mindfulness, creating a peaceful home, choosing a supportive partner and seeking professional help! It was a combination of things. You can read more in my other blogs.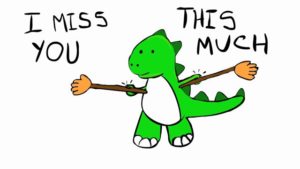 6 – I will miss my family. I will miss my husband. I will cry. That doesn't mean I won't have the most awesome time. It just means I am a human with human connections and love for my family. That doesn't mean I shouldn't go.
7 – It's New Zealand not Timbuktu!! I only just learnt Timbuktu is an actual place, haha, go figure. I thought it was just an old nanna saying. From here to Timbuktu! Anyway, I will have reception a lot of the time, there will be phonecalls, Skype and Facebook. Amazing haha.
8 – We all spend money on different things. I actually chose to cancel my breast reduction surgery and use that money on adventure and travel. I figured I can take my giant less than perfect tits with me and have some fun. That doesn't mean I judge you if you have had surgery or are planning to. Your body, your rules, my body my rules. In the grand scheme of things we waste money on all sorts of crap we don't need. I would rather have experiences than things. We won't regret that thing we didn't buy on our deathbed, but we might regret that adventure we didn't have, that experience. Be brave.
9- Hiking is a fabulous way to holiday. Breathe the fresh air, chat to other women. Plus there is a sense of accomplishment and pride. I am so proud of myself for giving this a go. After the information night for this hike I was so pumped and so excited but I was also absolutely shitting myself!! So many unknowns. Things that scare us, challenge us and that are out of our comfort zones change us the most. Bring on the change.
10 – Because I can.
I can not wait to change and grow from this experience. I can not wait to share with you all the photos, the laughs and the challenges. Stay tuned. Watch this space. 2017 IS THE YEAR OF YES!! New Zealand is just the start.
Much Love
Jazz – Just wingin it
Diffusing : Clarity
Wearing : undies and a smile
Listening to : Angelina Ballerina
http://www.bigheartadventures.com.au/queen-charlotte-track-walking-tour-2017/