Body confidence, have you got it? or we can call this blog "My mates are some proper hotties".
Body confidence and self love isn't something you can buy in a sale, it's not something that you work towards, aquire, set and forget. Wouldn't it be great if it was that simple?!
My friend Jen from Styling Curvy asked me, Caitlyn from Twist of Cait and Beth from Almost Posh,if we would like to take part in a photo shoot celebrating body diversity. I said "that will be nice", actually it was probably more like "hell yeah!" and thought nothing of it. At that moment I was 100% confident in my skin. For me body confidence can be easy one day and hard the next. Lack of sleep, exercise, a few days of eating poorly and my self love goes out the window. So I was keen beans, then I had some minor surgery and couldn't exercise for a couple of weeks. Self doubt started to creep in. Not because I worry what others think of me and how I look, but more about how I was feeling and whether that message would translate in photographs.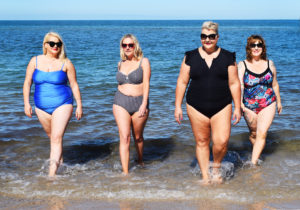 In fact when I was at the beach in my bathers I felt OK, When I looked at the other girls having their photos taken I thought, wow, they are some sexy creatures. When there was a little chatter about less than perfect body parts , it struck a chord that we really don't see ourselves in the way others do. When I see beautiful, confident women going about their lives I don't see anything but beauty. Confidence is sexy as hell.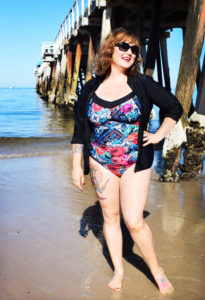 For me body confidence has little to do with size and weight and a whole lot to do with how healthy I am feeling. I refuse to weigh myself and I refuse to worry about what size tag my clothes have. I focus on what my amazing body can do. This body has made 4 babies! This body has fed 4 babies. This body has given and received so much love and that is what I focus my attention on.
If all you put into yourself is rubbish, guess how you will feel? Rubbish. I'm not just talking food I am talking about the way we feed our spirit and soul. If you tell yourself that you're too fat, too skinny, too tall, too short or even worse that you're ugly over and over, then that's what you will feel. You deserve better than that and so do I.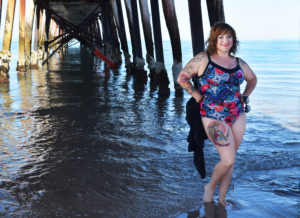 Do you have a favourite dress? something that you feel beautiful and comfortable in? Hold onto that feeling and go on the hunt for a cossie that you love too. Capriosca have a huge range and a great place to start. Try something new, maybe a two piece or a tankini, maybe you feel better in a one piece with a pretty wrap or board shorts. Whatever gets you participating in life and enjoying yourself, that is the winner!
You can find the swimsuit I am wearing here http://www.curvyswimwear.com.au/collections/plus-size-one-piece-swimwear/products/folklore-roses-underwire-one-piece
The rashie here http://www.sequinsandsand.com.au/sunsmart/2319/capriosca-swimwear-upf50-rash-vest-black.html
This pretty swimsuit comes in a size 10-22. It was kindly gifted to me by Curvy Swimwear and Sequins and Sand.
Now Check out these babes, pretty swimsuits and their take on our day…
Styling Curvy : http://www.stylingcurvy.com/
Almost Posh : http://www.almostposh.com/
Twist if Cait  : http://twistofcait.com/
Photography : https://www.facebook.com/jackie.reichstein?fref=ts
Much Love,
Jazz – Just Wingin it