Don't get all crazy on me….It sucks for me….not for everyone. This is my blog and my story.
There I said it. Well actually I typed it. When you are breathless running to catch up with your kid. When you're making love and can feel a distance between you and your partner, that you didn't feel before. When you can't find pretty clothes in your size, when bras look ugly and come in beige or black (That is until I met the gorgeous Sue from Buxom envy) and most of all when you become INVISIBLE! Yes, being fat makes you invisible and not just to the opposite sex. I notice that when I am under 70kg men just about break their necks to look at me and women are either friendlier or have some weird kind of respect.
Being "invisible" shouldn't matter right? It's societies expectations, blah blah blah, well actually we all love to be heard and respected. Size shouldn't matter, I get that. I am lucky to be able to do something about my weight and change my invisibility status. I would never be disrespectful to anyone because of their appearance, their weight, their disabilities. BUT, I don't want to be invisible. Whilst I can't change society overnight, I can lose a few cheeky kgs. I can also continue to be respectful to everyone around me. We all have a story and some of those stories are medical.
I have been everything from size 10 to an 18, 50 something to 112kg. Everything in between. The truth is I FUCKING LOVE ME…I am a good person, a loving Mother, a giving friend. None of these things change when I am fat or skinny. I still love who I am.
BUT…
I DON'T LOVE MY INABILITY TO DO THE THINGS I WANT TO DO WITH MY BODY, BECAUSE I AM FAT.
I recently joined a gym, 6 weeks ago to be exact. When speaking to the trainer I said "this is nothing to do with how I feel about myself, I'm a good egg" haha. This is all about having a body that can easily and effortlessly achieve all the dreams I have.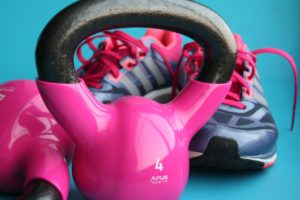 So, the last 6 weeks I have cut out sugar, fat, carbs, processed food. I have exercised daily. I feel so much better in my skin because things I want to do, enjoy doing are now easier to do!! With more weight loss they will be even easier.
I now fold at the middle when doing up my shoe! I'm not breathless. I am energised and greatful for my body that doesn't let me down as often.
This body has made 4 babies!! Held them close. Kissed one goodbye forever. Fed them, changed them, loved them. It has made love thousands of times. It's walked through Thailand and Malaysia, Vanuatu and Bali, all over Australia. It's hugged those I care for and love, it's done so many beautiful things and I am so greatful for that. Soon it will hike through New Zealand with a beautiful bunch of women.
I can LOVE myself completely and still want to be fit, muscular and slim. Body positivity doesn't go out the window because I don't want to be fat anymore.
There seems to be a disconnect on social media. That fat positive = body positive. That wanting to be slim is a negative. Be whatever you want to be. How fabulous that we are the ones in control of our bodies and our lives. That we can do whatever the hell we want.
Self love for me is very little to do with appearance and much to do with soul. That doesn't mean I can't want to look slim, that I should stay just as I am.
So yes, being fat sucks….for me. I am moving towards my goal, I am feeling positive.
Til next time,
Much Love,
Just Wingin it,
Jazz
Diffusing : Clarity
Listening to : My husband and daughter singing
Wearing :ugly sheep pjs